Key Quest Prizes
Key Quest awards both items and Neopoints. As you play the game you gain Neopoints whenever you land on (or simply pass over) the Neopoint Squares on the gameboard. When you finish the game, you're rewarded with whatever your Neopoint total is!
Once you complete a game of Key Quest, you will also be awarded a Vault Key that you can use to unlock prizes in the Key Quest Prize Vault! Vault Keys come in Gold, Silver, Bronze and Lead.
Redeeming a Vault Key
To redeem any of the Vault Keys you win in Key Quest, you need to visit the Key Quest Vault

. Once you're there, you will see that the vaults which correspond to the keys you've earned are lit up! To use a key, simply click on the correct vault and confirm that you do want to use your key.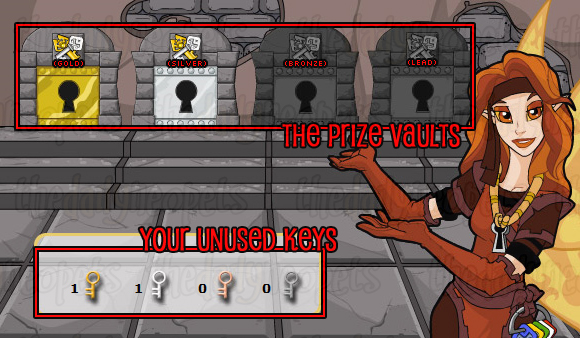 When you redeem a key, it awards you with a set number of items - from Codestones to Neggs to paint brushes! Gold keys award four items; silver award three; bronze two and lead just one.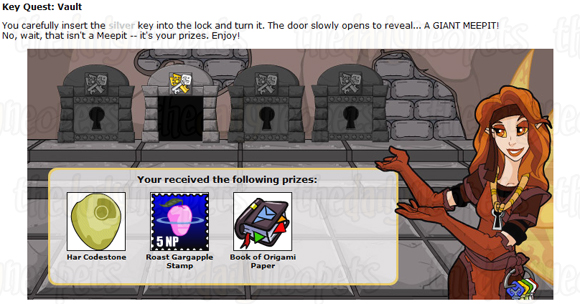 You can only redeem a total of 10 Vault Keys per day, but you can keep earning as many as you want - and save them for a day when you can't play as much!
Prizes
There are two main types of prizes that you can win from Key Quest, year-round and seasonal. The year-round prizes are available to be won... you guessed it, all year long. The seasonal prizes on the other hand are themed prizes that are available for weeks or months at a time during specific times of the year. When you use a key, you will be awarded with a combination of year-round prizes and the current seasonal prizes.
From the drop-down menu below, you will be able to view all the prizes that have been given out by the games, from the year-round prizes, to current and past seasonal prizes. Have a look!
Year-Round Prizes*
Paint Brushes (only awarded when redeeming gold keys)
Biscuit Paint Brush
Camouflage Paint Brush
Cloud Paint Brush
Ghost Paint Brush
Glowing Paint Brush
Snow Paint Brush
Speckled Paint Brush
Starry Paint Brush
Striped Paint Brush
Tyrannian Paint Brush
Bri Codestone
Eo Codestone
Har Codestone
Zei Codestone
Lu Codestone
Vo Codestone
Tai-Kai Codestone
Orn Codestone
Mau Codestone
Main Codestone
Zed Codestone
Mag Codestone
Vux Codestone
Cui Codestone
Sho Codestone
Kew Codestone
Negg
Purple Negg
Cookie Negg
Icy Negg
Lemon Swirly Negg
Super Icy Negg
Lime Swirly Negg
Ultra Icy Negg
Scrambled Rainbow Negg
Rock Negg
Speckled Negg
Frozen Negg
Purple Cybunny Negg
Sand Negg
Bottled Fire Faerie
Bottled Light Faerie
Bottled Earth Faerie
Bottled Air Faerie
Bottled Water Faerie
Bottled Dark Faerie
Secret Laboratory Map
Secret Laboratory Map
Secret Laboratory Map
Secret Laboratory Map
Secret Laboratory Map
Secret Laboratory Map
Secret Laboratory Map
Secret Laboratory Map
Secret Laboratory Map
Piece of a treasure map
Piece of a treasure map
Piece of a treasure map
Piece of a treasure map
Piece of a treasure map
Piece of a treasure map
Piece of a treasure map
Piece of a treasure map
Piece of a treasure map
Moon and Stars Background
Veiled Autumn Hat
Bone Vault Background
Courgette Field Background
Raining Doughnuts Background
Ghostkerscarf
Cloudy Sky Background
Neohome Background
8th Birthday Celebration Background
Shiny Purple Cowry Shell
Shenkuu Lunar Temple Stamp
Roast Gargapple Stamp
Quiggle Scout Stamp
Orange Draik Stamp
Monoceraptor Claw Stamp
Master Vex Stamp
Maraquan Defenders Stamp
Malkus Vile
Kazeriu Stamp
Gelert Prince Stamp
Everlasting Crystal Apple Stamp
Draik Guard Stamp
Captain Tuan Stamp
Anshu Stamp
Zeenana Stamp
Mystery Island Heads Stamp
Island Native Stamp
Haiku Stamp
Bronze Mystery Island Coin
Chalkboard
Grundo Inspired Dresser
Heart Toast Sculpture
hOrange Grundo Chairerp
Orange Grundo Wardrobe
Orange Kreludan Bed
A Kau Summer
A Tale of Three Bruces
Book of Origami Paper
Bubble Sculptures
Day In The Life Of King Roo
Dress For Success
Fishing For Zafaras
Grarrl Mythology
Hocus Focus
Island Cybunny Guide
Jeran my Hero
Jetsam Teeth Maintenance
Kiko Pop-Up Book
Maraqua Colouring Book
More Than Carrot Cake
Mystery Island Tour Guide
Mystery Island Monthly
Mystery Island Jungle Lore
Nimmo - Now and Zen
Nimmo of Doom
Ogrin Survivor
Planning Shenkuu Gardens
Skeith Inspired Treasure Maps
Slugawoo Art
The Curse Of The Pirate Aisha
The Life of a Double Crosser
The Luckiest Babaa
The Plushie Coffee Table Book
The Secret of Treasure Island
The Tooth Story
Toast Treats
Yurble Tales
Flotato
Islandberry Tea
Mutant Tigersquash
Mystery Island Chocolate Milk Glass
Pimplepepper
Red Octopepper
Small Fruit Basket
Spicy Mystery Island Coffee
Star Fish Sandwich
Tagobo Potion
Thornata
Thornata Juice
Wicker Fruit Cornucopia
Zeenana Crepe
Chuchuana
Dartail
Ghoti
Kelpflake
Lizark
Quetzal
Taigar
Tapira
Carved Sea Shell
Cool Wooden Tiki Head
Mystery Island Drum
Tiki Kite
Vial of Pure Water
Mystery Island Usuki Play Set
*The Summer 2009 seasonal prizes were never deactivated, so they remain in the year-round prizes.
2012 Summer Prizes
Summer Postcards
Shoyru Summer
Treelurkers
Tiki Brochure
Famous Flotsams
Lutari Photography
The Blue Tiki Sands of Time
Rambus Salad Sandwich
Coconut Cocktail
Sandy Geb Cakes
Ficus Tree
Bamboo
Simple Bridge
Dark Island Palm Tree
Fresh Bamboo Chair
Fresh Bamboo Mat
Blackberry Bush
Blugar
Soreen
Tasu
River Overlook
Shell Beach Background
Tiki Magnets
Vial of Beach
Beach Fun Usuki
2012 Spring Prizes
Reject Usuki Spring Basket
Spring Mirror
2012 Valentine Prizes
Bitten Heart Muffin
Loveberry Slushie
Love Shake Chocolate
Babaa Love Poster
Fyora Inspired Vanity Table
Heart Stepping Stone
Lovely Coffee Table
Lovely Decorative Lamp
Lovepetal
Pink Bonsai Tree
Pink Flower Bouquet
Pink Hydrangea Bush
Pink Poogle Table Lamp
Pink Poppies
Pink Vanity Desk
Wocky Glove
A Heartfelt Valentines Day Card
Blumaroo Love Stories
Book of Love
Lennies in Love
Love and Caring
Love Hurts
Love, Laughs, Xweetoks
Nuts, A Love Story
Sweetheart
Techo in Love
The Best of Love
The Love Buzz
The Loveliest Uni
Sparkly Pink Perfume
Pink Evil Fuzzle
Nadia the Peophin of Love
Red Paint Brush Collectable Charm
Broken Heart Tombstone
Fancy Pink Gown
Pink Knit Purse
Pink Sun Hat
Strange Red Mist Foreground
Dreamy Pink Hearts Background
2011 Winter Prizes
Frozen Soup
Snow Faerie Cupcake
Snow Loaf
Spicy Snow Rolls
Snowy Negg
Terror Mountain Chocolate Milk Glass
Snow Covered Bush
Snowflake Painting
Snowflake Rug
Winter Fun Cybunny Gnome
Ogrin Mountain Climber
Terror Mountain Colouring Book
Terror Mountain Travel Brochure
The Snow Aisha Adventure
Winter in Faerieland
Winter Usul Wear
Frozen Blumaroo Plushie
Frozen Wocky Plushie
Terror Mountain Slide
Winter Mirror
Grundo Snow Throw Stamp
Snow Faerie Stamp
Terror Mountain Scene Stamp
Wintery Bruce Stamp
Brown Winter Scarf
Scenic Mountain Top Background
Snowball Fortress Foreground
Winter Landscape Background
Blueberry Snowflake
Frozen Snowball
Glowing Snowflake
Grape Snowflake
Ice Dagger
Ice Scimitar
Spicy Snowflake
Super Ice Sword
Gabar
Gwalla
Winter Harp
French Horn of Winter
2011 Halloween Prizes
Candy Pumpkin Latte
Evil Baklava
Ghostmallow Smore
Haunted Brucicle
Holiday Haunted Woods Cookies
Magic Ghost Marshmallows
Pant Devil Lunch Box
Pumpkin Ghost Toast
Pumpkin Ice Cream
Pumpkin Slice
Evil Hand Chair With Lumbar Support
Ghost Chia Gnome
Mini Pumpkin
Acara Nightmare
Evil Spells
Haunted Tablet
Haunted Woods Reader
Haunted Woods Travel Brochure
Inside a Haunted Tomb
Spooky Korbat Stories
The Ixi Ghost Legend
The Wicked Little Uni
Who Is The Nightsteed
Devilpuss Plushie
Evil Fuzzle Gnome
Ghost Gnorbu Plushie
Ghost Zafara Plushie
Haunted Woods Snowglobe
Evil Fuzzle Coin
Moonlit Werelupe Stamp
Ghostly Torch
Spooky Tower Entrance
Wicked Wocky Wobble Helmet
Ghostkerchief Bag
Ghostkerchief Dagger
Pumpkin Launcher
Spooky Ring
Autumn Pumpkin Drum
Haunted Mandolin
2011 Summer Prizes
Lemon Sun Cake
Mynci Fruit Kebab
Sun Lollipop
Kougra Lily
Potted Jungle Plant
Red Kougra Bed
Sunset Coral Armchair
Big Book of Myncis
Improving Your Hut
Jungle Kyrii Tales
Kougra Adventures
Mynci Colouring Book
Mynci in the Jungle
The Blue Tiki Sands of Time
The Korbat From Krawk Island
The Sun and You
Sunkissed Altadorian Chapstick
Island Slorg Plushie
Ordinary Seashell Sand
Wooden Meepit Totem
Wooden Snuffly Totem
Wooden Stahkee Totem
Wooden Warf Totem
Chen-Ra Son of the Sun
Gadgadsbogen Festival
Jake the Explorer
Kiko Explorer
Umma Bunga
Mystery Island Hut Stamp
Mystery Island Travel Stamp
Mystery Island Heads Background
Mystery Island Training School Background
Thorny Vine Garland
2011 Spring Prizes
Broken Chocolate Flower Negg
Healthy Grass Hot Dog
Neggdrop Soup
Rainbow Melt Pizza
Spring Flower Tea
Uni Rainbow Cake
Autumn Sunset Daisy
Grassy Bridge
Pink Flower Bouquet
Potted grass
Rainbow Bed
Red Walking Flower
Spring Birch Tree
Starflower
Star of Paradise Flower
Sunny Yellow Lamp
Bori and the Rainy Day
Dry Flower Decor
Easy Origami Flowers
Kreludor Rainy Day Activity Book
Lost Cybunny
The Negg Faerie Diaries
Rainbow Fountain Secrets
The Rainbow Pool
Rainy Day Activites
Rainy Day Activities For Koi
Square Book of Rainy Day Activities
Cybunny Perfume
Cloud Cybunny Plushie
Rainbow Shoyru Plushie
Reject Usuki Spring Basket
Desert Flower
The Negg Faerie
Field of Grass Background
Grassy Meadow Background
Pink and Green Sun Hat
Flask of Liquid Sunlight
Rainbow Scroll
Reject Healing Springs Residue
2011 Valentine Prizes
Chocolate Cake
Chocolate Chest of Coins
Chocolate Chia Candy
Chocolate Chip Cybunny Cookie
Chocolate Faellie Cake
Chocolate Turkey
Chocolate Ogrin Cupcake
Chocolate Usuki
Dark Chocolate Hearts
Deluxe Heart Waffle
Glitter Heart Candy
Heart Breath Mints
Heart Latte
Heart Petit Fours
Heart Shaped Box of Toffee
Heart Shaped Chocolates
Heart Wafflecake
Rasperry Jelly Heart
Red Gummy Hearts
Sour Candy Hearts
Strawberry Heartcicle
Sweet Tea
Tooth Faerie Sweets
Treasure Sweets
Valentines Heart Shaped Chocolate Box
Bleeding Heart
Scented Hearts Flower
My Sweet Scorchio
Sweetheart Scroll
Heart Drums
Broken Heart Keyring
Broken Heart Pendant
Chocolate Lip Gloss
Heart Swirl Valentines Card
Ruby Heart Pendant
Heart Shaped Sunglasses
I Heart Soup Apron
Sweet and Sour Negg
2010 Winter Prizes
Dropped Snowcone
Icy Baked Beans
Icy Fried Chicken
Icy Heart Candy
Icy Jelly Steak
Icy Onigiri
Small Neggnog Smoothie
Snow Faerie Cupcake
Snow Slushie
Snowflake Slushie
Spicy Snow Rolls
Snow Covered Bush
Snow Kacheek
Snowflake Bean Bag
Snowflake Rug
Snowflake Table
A Collectors Guide to Snowglobes
Guide to Neopian Snowflakes
Snow Architecture
Snow Days
Snowy - A White Kougra Story
The Definitive Snowglobe Guide
Lady Frostbite Action Figure
Faerieland Snowglobe
Tiny Snowman
Frosty Snowman Stamp
Snow Faerie Stamp
Snow Wars Catapult Stamp
Snowbeast Horns
Abominable Snowflake
Green Frost Cannon
Remote Control Virtupets Snowball
Snowball Club
Spiky Snowball
Abominable Snowball
Green Negg
Snowy Negg
Yellow Negg
2010 Halloween Prizes
Aggressive Casserole
Almost Gummy Rat (Lime)
Bat Cookie
Beast Burger
Bleeding Heart Jelly Sundae
Candy Corn Fizzy Drink
Cheese Ghostkersandwich
Chocolate Graveyard Cake
Chocolate Ice Cream Apple Lantern
Chocolate Korbat Ice Lolly
Creepy Spring Salad
Festering Coffee
Finger Sandwiches
Frothy Fruit Juice
Ghost Burger
Glaring Cheesecake
Grundo Stix
Ichor Ghost Toast
Mint Ice Cream Apple Lantern
Pumpkin Chip Surprise
Slime-Frosted Pretzel
Snorkle Snout
Snotty Ghost Toast
Spaghetti and Eyeballs
Spider Liquorice
Spooky Lime Pudding
Undead Broccoli
Vanilla Ghost Cake
Vanilla Ice Cream Apple Lantern
Wormy Pasta
Fetch! Stamp
Halloween Aisha Stamp
Spooky Gravestone Stamp
Count Von Roo Halloween Costume
Meuka Halloween Costume
Vira Halloween Costume
Spooky Treasure Map
Spooky Treasure Map
Spooky Treasure Map
Spooky Treasure Map
Spooky Treasure Map
Spooky Treasure Map
Spooky Treasure Map
Spooky Treasure Map
Spooky Treasure Map
2010 Summer Prizes
Decorated Fruit Basket
Hanging Fruit Basket
Islandberry
Islandberry Fruit Kebab
Strawberry Krawkade
Large Avocado Smoothie
Large Churro Smoothie
Regular Sand Smoothie
Small Islandberry Smoothie
Snowberry Krawkade
All In A Days Work
Hooked on Fishing
Hook Line and Sinker
Hula De Ruki
Ixi Island
Jungle Survival Tips
Life Is Good
Mystery Island Paperback Book
Mystery Island Travel Brochure
Scorchio Summer
Shoyru Summer
Summer Postcards
Summertime Connect-the-Dots
Sunset On Mystery Island
Swim
Techo Mountain
Tiki Bookmark
Tombola Tips
Toys, Gifts and Island Merchandise
Island Gift Bag
Carved Tiki Mug
Mystery Island Drum
Plastic Tiki Toy
Straw Tiki Hat
Techo Master Statue
Tiki Brochure
Tiki Magnets
Tiki Man Folder
Island Grarrl Plushie
Island Pteri Plushie
Island Skeith Plushie
Usuki Summer Fashion Set
Camouflage Scallop Shell
Deep Seashell
Conch Shell
Gadgadsbogen Fruit Background
2010 Spring Prizes
Flower Latte
Buttered Negg Waffle
Blue Easter Negg Cookie
Cheese Flower Cracker
Jewelled Breath Mints
Negg Pie
Oozing Negg Buns
Pink Easter Negg Cookie
Negg Latte
Roseatte Ice Cream
Spring Flower Tea
Spring Salad Hot Dog
Sunflower Sugar Cookie
Twirly Fruit Daisy Lollypop
Yellow Flower Stained Glass Window Cookie
101 Negg Recipes
Growing Exotic Plants
Illusen Connect-the-Dots
Neggery Notes
Deluxe Bouquet
Hand Picked Spring Flowers
Heartflower Magnet
Floral Tissue Box
Spring Mirror
Tropical Flower Plant Soap
Beekadoodle In A Box
Blue Negg Goo
Blue Tropical Mystery Island Flowers Plushie
Reject Usuki Spring Basket
Usuki Flower Picking Set
Negg Stencil
Negg Noodles Stamp
Jungle Flower Garland Cut Out
Brightly Coloured Easter Negg
Bubble Negg
Cheese Negg
Chocolate Candy Filled Negg
Creme Filled Chocolate Negg
Grilled Negg
Pyranegg
Sunflower Pattern Easter Negg
2010 Valentine Prizes
Angry Emoticon Hearts
Balloon-Shaped Candy Drops
Banana Candy Rock
Blueberry Crescent Lolly
Blueberry Lupe Hard Candy
hCandy Chia Applerp
Cherry Rose Lolly
Cherry Shoyru Sweet
Chewy Liquorice Aisha Ears
Faerie Rock Candy
Fruit Wings Candy
Green Candy Buttons
Gummy Orange Chia
Hard Doughnutfruit Candies
Heart Crepe
Heart Petit Fours
Icy Heart Candy
Lemon Daisy Cake
Loveberry Slushie
Orange and Lime Rock Stick
Orange Gummy Quiggles
Orange Whirlpool Candy
Raspberry Sweetie
Red Gem Candy
Rock Candy
Sour Candy Hearts
Spearmint Ribbon Candy
Speckled Candy Floss
Strawberry Pretzel
Candy Making
Black Cherry Lip Balm
2009 Winter Prizes
Candy Cane
Candy Cane Hot Dog
Deluxe Snowflake Cake
Gingerbread Korbat
Holiday Slushie
Honey Glazed Ham
Red Wocky Sugar Cookie
Robot Grundo Sugar Cookie
Small Roasted Chestnut Smoothie
Snowberry Poogle Cake
Snowberry Delight
Snowberry Tea
Snowbunny in Hat Cake
Snowflake Bread
Snowflake Cake
Snowflake Cookie
Snowflake Muffin
Snowghetti and Meatball
Snow Sandwich
Sweetcorn Snowbunny Loaf
Winter Tilt Cake
A Collectors Guide to Snowglobes
A Flotsam Christmas
All About Snufflies
Being Bruce
Bruce Carols
Bruce Snowball Strategies
Nimmo Gift Ideas
Nimmo Winter Tales
Snow Architecture
Snow Days
Snow Faerie Book
Snowy - A White Kougra Story
The Snow Aisha Adventure
Winter Usul Wear
Chia Holiday Greeting Card
Christmas Cybunny Pencil Tin
Frosty Eye Shadow Compact
Frosty Hair Gel
Snuffly Pencil Case
Winter Card
Christmas Chia Hand Puppet
Deluxe Acara Cracker
Deluxe Bori Cracker
Deluxe Ruki Cracker
Snowbunny Yoyo
Snow Jetsam Plushie
Wind Up Snowbunny
Wind Up Wreathy
Wreathy Ball
Wreathy Plushie
Wreathy Yoyo
Frosty Snowman Stamp
Rainbow Slushie Stamp
Snow Wars Catapult Stamp
Wintery Petpet Shop Stamp
Brown Winter Scarf
Dirty Snow
Frost Bite Egg
Snow Faerie Darts
Snow Mote
Super Snow Tiger Egg
Trapped Snow Wurm
Wet Snowflake
Candy Cane Harp
Snow Clarinet
2009 Halloween Prizes
Apple Lantern Pie
Baked Intesteen
Cheese Ghostkersandwich
Frothy Fruit Juice
Skullberry Brucicle
Slime Cream
Vanilla Ghost Cake
Deserted Carnival Chair
Deserted Carnival Bed
Eyeball Cauldron
Ghost Lupe Painting
Gravestone Chair
Halloween Decorative Banner
Orange Spyder Candle
Pumpkin Sink
Spooky Bone Candle
Spooky Green Candles
Spooky Petpet Bath Tub
Spooky Sink
Spooky Skull Candle
Spooky Speaker
Spooky Toilet
Spooky Tree Table
Carnival of Terror Trampoline
Haunted Woods Flag
Halloween Blumaroo Gnome
Halloween Bruce Gnome
Halloween Cybunny Gnome
Halloween Lenny Gnome
Spooky Bench
Spooky Patio Chair
Spooky Patio Table
Spooky Umbrella
Ghost Stories
Ghost Techo Tales
Halloween Ruki Tales
Mystery Of Halloween
Spooky Food Ideas
Spooky Kau Story
Spooky Skeith Adventures
The Legend of Count von Roo
Trick or Treat Tips
Witchcraft Spells
Witch Hunting Techniques
Jack-o-Folder
Korbat Motif Vase
Mutant Ona Mask
Nightsteed Mug
Bride of Frankenstein Usuki
Halloween Ixi Plushie
Halloween Kau Plushie
Halloween Wocky Plushie
Carnival of Terror Stamp
Mutant Usul Stamp
Count Von Roo Halloween Costume
Dr Sloth Halloween Costume
Lord Kass Halloween Costume
Dark Vine Potion
Enchanted Cobweb
Ghostkerchief Bracers
Spooky Looking Dark Potion
Dribblet
Lizark
Melton
Skelly
2009 Spring Prizes
Chunky Cauliflower Soup
Garden Fantasy Cake
Organic Spring Onion
Spring Flower Tea
Techo Garden Salad
Whole Garden Fresh Pizza
Blossom
Blue Wheelbarrow
Cabbage Plant
Curious Blumaroo Gnome
Dragonbud
Perfume Mallows
Pink Poppies
Rubber Plant
Scented Hearts Flower
Stone Bridge
Wiltadendhron
Decorating Your Garden
My Garden Book
Neogarden Nimmo
Neohomes and Gardens
Scented Hearts Flower Shampoo
Single Grey Flower
Usuki Gardening Set
Pretty Pink Flower Hat
2009 Valentine Prizes
Box of Wocky Chocolates
Chocolate Cake
Chocolate Snowflake Cake
Strawberry and Chocolate Yurble Cupcake
Chocolate Cannon Ball
Chocolate Covered Marshmallow Zafara
Chocolate Craker
Chocolate Draik Lollypop
Dark Kiko Chocolates
Nutty Kiko Chocolates
Chocolate and Asparagus Achyfi
Chocolate Fyora Crown
Chocolate Ice Cream
Chocolate Kau Milk
Chocolate Murex Shell
Chocolate Scallop Shell
Dark Chocolate Covered Toffee
Swirly Chocolate Milk
2008 Winter Prizes
Berry Topped Frozen Yogurt
Blueberry Snowflake
Blueberry Snow Puff
Frosty Chewing Gum
Frosty Doughnut
Frozen Corn Dog
Frozen Cucumber Slices
Frozen Fishy Sandwich
Frozen Jam Sandwich
Frozen Meaty Sandwich
Frozen Soup
Frozen Veggie Sandwich
Holiday Slushie
Lemon Snow Puff
Lime Snow Puff
Orange Chocolate Snowflake
Plain Frozen Yogurt
Snowberry Biscuits
Snowberry Chia Pop
Snowberry Poogle Cake
Snowberry Tea
Snowflake Cake
Snow Crisps
Snow Loaf
Snow Sandwich
Snow Slushie
Snow Toast
Snowflake Bread
Strawberry Snow Puff
Wintermelon
Holiday Tiki Hammock
A Collectors Guide to Snowglobes
A Grundo Christmas
Holiday Activity Book
Holiday Connect the Dots
Holiday Colouring Book
Nimmo Winter Tales
Snow Architecture
Snow Days
Snow Faerie Book
Snowy - A White Kougra Story
The Snow Aisha Adventure
Winter Usul Wear
Frosty Eye Shadow Compact
Frosty Hair Gel
Snowbunny Bath Puff
Christmas Cybunny Pencil Tin
Christmas Magic Wand
Winter Card
Christmas Chia Hand Puppet
Snowglobe
Kacheek Snowglobe
Snow Usul Plushie
Snowy Valley Usuki Set
Winter Love Usuki Set
Frostburn the Chia
Christmas Kougra Stamp
Christmas Uni Stamp
Christmas Zafara Stamp
Frozen Snowflake Coin
Grundo Snow Throw Stamp
Snow Faerie Stamp
Snow Wars Catapult Stamp
Brown Winter Scarf
Brown Winter Hat
Ice Caves Background
Green Frost Cannon
Dirty Snow
Evil Snowflake
Exploding Snowflake
Frost Bite Egg
Frost Mote
Frozen Collar
Glowing Snowflake
Radioactive Snow
Wet Snowflake
Alerts

The Snowager
Next sleep in 0h, 22m, 13s.

Next Possible Wake
March 29: 10 AM/PM NST
March 30: 3 AM/PM NST
March 31: 8 AM/PM NST
April 1: 7 AM/PM NST
Neopia Today
Play Featured Game

Featured Band: Chomby and the Fungus Balls
The Runway Contest
Earth Faerie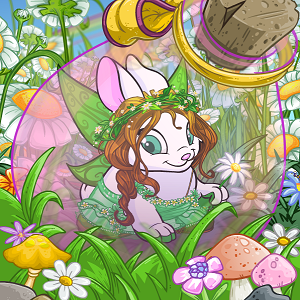 Winning entry for "Elemental Faeries"!
Click here to enter the next round!
And click here to vote for a theme for the 100th round!
Recently At Forums