The Great NC Scavenger Hunt
It's time to put your sleuthing skills to work in the Great NC Scavenger Hunt! For the week of May 21 - May 28th, 2014, Neopians can join up to three teams and use clues to search for special NC prizes!
In order to begin the hunt, you'll have to pick teams. You may pick one, two, or all three of the available teams. For each team you join, you'll need to buy a special satchel from the NC Mall to hold all the things you need to find. Each satchel costs 700 NC and is used for the entire week.
Prizes Galore!
Participants in this event have multiple opportunities to earn bonus prizes in addition to the daily prize from finding all the items for a specific team. You have a chance at a bonus prize when you activate a satchel within the first three days of the event (up to three bonus prizes, one from each team's satchel). Completing the hunt for one team (finding all of the items during the week's event) will let you choose your own bonus from a pool of items, while completing hunts for all of the teams during the event will award you an additional bonus prize on top of the three team prizes you choose.
Satchel Activation Bonus Prizes
The Daily Prizes
May 21
Ciphette's Mystery Search
Lavisham's Giftwrap Grab
Noda's Cookie Quest
Item
Clue
Hm, where could you find a floaty substance? Where do even rocks float? No, I won't tell you. You have to guess. Mwhahaha!
Location: Kreludor
The Island Faerie, Jhuidah, uses wrapping paper to wrap items for delivery. She won't mind sharing a roll with us! She likes wrapping gifts too.
Location: Trading Post
My famous Kacheek colleague has many of these handy bowls. You can find him in a gingerbread house, next to a Uni statue.
Location: Bakery
Prize


Inside a Balloon


Jhuidah Wig


Gingerbread Oven Background
May 22
Ciphette's Mystery Search
Lavisham's Giftwrap Grab
Noda's Cookie Quest
Item
Clue
Oh, this will be an easy one for big game fans. That Yurble janitor probably hasn't even cleaned up the mess from last year yet...
Location: Hall of Heroes
You can't put a gift box together without tape! The stickiest tape for gift wrap is made by a snotty Meerca. Ew! Good luck, and stay safe.
Location: Snot Splatter
Fetch me a spoon from the least popular Neopet! It's going to come in very handy making these cookies.
Location: Neopet Popularity
Prize


Rainbow Confetti Tree


Green Scallop Evening Dress


Golden Spoon Wig
May 23
Ciphette's Mystery Search
Lavisham's Giftwrap Grab
Noda's Cookie Quest
Item
Clue
Decorative and delicious! I always get these gumballs at my favourite candy shop. They make good filler in the mystery capsules.
Location: Chocolate Factory
We're going to need some bows in various colours. There are lots of extra bows discarded by new Usuki owners at one of my favourite shops.
Location: Usukiland
I have no use for crumpets, but there is a Meerca who has a spare rolling pin that we're going to need. Ask nicely.
Location: The Crumpetmonger
Prize


Popping Bubble Gum


Usuki Bow Shield


Dessert Chef Apron
May 24
Ciphette's Mystery Search
Lavisham's Giftwrap Grab
Noda's Cookie Quest
Item
Clue
This sealing powder keeps the mystery capsule from popping open early. You'll need to find a witch with a red cauldron. Wonder where...
Location: The Witch's Tower
I like to use these to give ribbons a lot of curl on a gift box. The master of springs and bouncy things is handing out these scissors with a demo.
Location: Springy Things
As a coincidence, we also need a thermometer. Ask a scientist about it, but be warned; he can be a little unpredictable.
Location: Aboard The Coincidence
Prize


Path to Ednas Tower Background


Curled Ribbon Skirt


Skirt of Embers
May 25
Ciphette's Mystery Search
Lavisham's Giftwrap Grab
Noda's Cookie Quest
Item
Clue
I always wave a wand when making a mystery capsule. A reclusive faerie in the land of ice cream enchants the best wands. Good luck!
Location: Snow Faerie Quests
Why use just one ribbon when you can use every colour? Someone left a box of white ribbons next to a certain pool and they fell in. Lucky for us!
Location: The Rainbow Pool
Isn't it high time we turned the tables and gave the faeries a quest? Fetch me some faerie dust. You know who to ask.
Location: Faerie Quests
Prize


Ice Cream Cone Wand


Rainbow Moustache and Cloud Beard


Magical Faerie Glade Background
May 26
Ciphette's Mystery Search
Lavisham's Giftwrap Grab
Noda's Cookie Quest
Item
Clue
Don't worry. They're not nasty surprises, despite the source. On that note, you might NOT want to mention Illusen when you pick this up.
Location: Jhudora's Bluff
Sometimes I like to add a few polka dots. Okay, LOTS of polka dots. Anyway, you might try looking in a place that carries pencils and markers.
Location: Neopian School Supplies
Don't tell anyone, but my Kyrii associate actually gets his fortunes from a book, just like the rest of us fortune tellers...
Location: Mystery Island Mystic
Prize


Barbat-in-the-Box


Polka Dot Tutu with Tights and Shoes


Bundle of Books
May 27
Ciphette's Mystery Search
Lavisham's Giftwrap Grab
Noda's Cookie Quest
Item
Clue
I like to send apprentices to a wise king -- not to spout attempts at wisdom, but to bottle the trumpet sounds made when the king is impressed.
Location: Wise Old King
It's a good idea to put one of these on a gift box before you forget what you wrapped. I like to get mine from the experts in Happy Valley.
Location: Winter Holiday Tags
I'm sure you know a kind earth faerie with a fondness for cookies. Borrow these cookie sheets, and be quick about it!
Location: Illusen's Glade
Prize


Musical Procession Foreground


Snow Covered Bridge


Leafy Forest Jacket
May 28
Ciphette's Mystery Search
Lavisham's Giftwrap Grab
Noda's Cookie Quest
Item
Clue
The scrolls of the deep desert are legendary. This particular one can be found in a shop instead of a tomb, fortunately. Mwahaha!
Location: Sutek's Scrolls
We mustn't forget something to line the inside of the gift box with something pretty! I know a certain Negg Faerie with a fondness for plaid.
Location: The Neopian Neggery
You can't make cookies without measuring ingredients! You can find them in... hm. I don't know! Better ask the shopping expert.
Location: Shop Wizard
Prize


Embroidered Gold Filigree Skirt


Extra Plaid Scarf


Swirl of Magic
Bonus Prizes
For participating in every day of the Scavenger Hunt, players received bonus items for their troubles. Each Scavenger Hunt comes with it's own bonus item. If you're eligible for a bonus item from either of the three Scavenger Hunts, your screen will look something like the image below.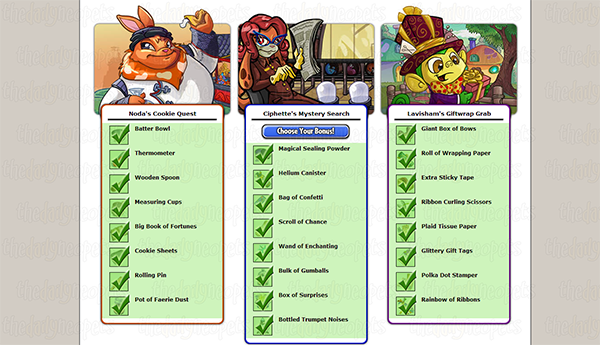 Event Bonus
Everyone who participated and completed each of the three scavenger hunts are awarded with a special bonus prize.
Ciphette's Mystery Search Bonus
Players who participated in Ciphette's hunt got to choose one limited edition bonus item from one of three Mystery Capsules. The bonus redemption screen from Ciphette looks as follows.
Lavisham's Giftwrap Grab Bonus
Players who completed Lavisham's hunt are awarded with a choice of three Limited Edition previously released gift boxes and two newly released gift boxes. Participants are able to choose any two of the given gift boxes as their bonus.
Noda's Cookie Quest Bonus
Those who helped Noda complete his scavenger hunt are able to choose one of six fortune cookies. For more information on fortune cookies please visit our complete guide located here.
Alerts


The Snowager
Next sleep in 5h, 43m, 0s.

Next Possible Wake
Sep 26: 7 AM/PM NST
Sep 27: 12 AM/PM NST
Sep 28: 5 AM/PM NST
Sep 29: 10 AM/PM NST
Neopia Today

Play Featured Game

Featured Band: Jazzmosis
The Runway Contest
Kelpie of the Deep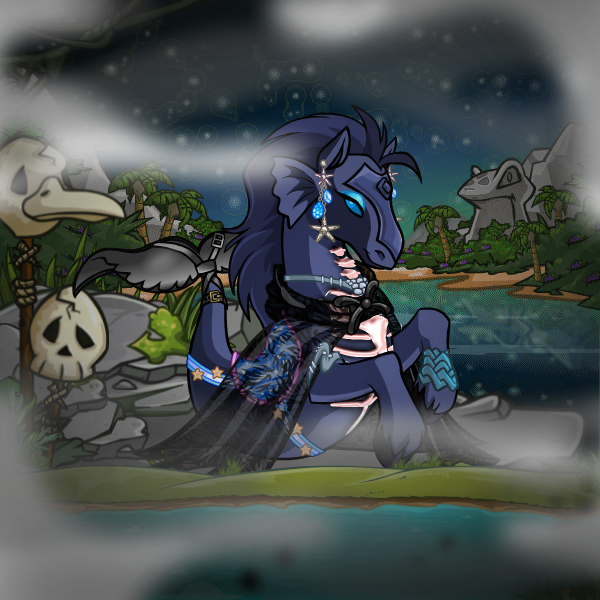 Winning entry for "Mighty Myths"!
Voting has started!
Click here to vote for your favourite entries!
Recently At Forums