Daily Dare '10
This article focuses on the NeoCash subsection of the Daily Dare held in 2010 - if you wish to see full prize lists please click here!
As in previous years, the Avinroo siblings' cousin - a young Cybunny called Lulu - challenged players in the Daily Dare NC Challenge! The challenges are, as always, pretty much completely separate to the normal Daily Dares - and requiring players to purchase Game Tickets from the NC Mall to participate. There are thirty-two challenges and players needed one ticket per challenge.




Tickets must be activated via your inventory before you can use them to play a specific NC Challenge game, but once they have been activated you may play that game as many times as you like until you beat Lulu's score. Players who completed all thirty-two challenges also received a pack of bonus prizes.
The Daily Challenges
Game To Play
Prize
February 11 - Meerca Chase II

Score 140 points.

Sparkling Negg Wig
February 12- Extreme Herder 2

Score 75 points.

Extreme Herder II Background
February 13 - Snowmuncher

Score 600 points.

Squeezable Polarchuck Plushie
February 14 - Ice Cream Machine

Score 950 points.

Adee Wig
February 15 - Spinacles

Score 400 points.

Spinacle Spheres Shower
February 16 - Chariot Chase

Score 200 points.

Chariot Chase Chariot
February 17 - Crisis Courier

Score 400 points.

Yooyu Head Bonk
February 18 - Top Chop

Score 350 points.

Chopping Block
February 19 - Wheeler's Wild Ride

Score 60 points.

Wheelers Wild Shorts
February 20 - Snot Splatter

Score 15,000 points.

Splattering Snot Garland
February 21 - Wingoball

Score 275 points.

Marching Gnomes
February 22 - Freaky Factory

Score 55 points.

Paint Blob Shower
February 23 - Dueling Decks

Score 2,000 points.

Dueling Decks Hand of Cards
February 24 - Carnival of Terror

Score 250 points.

Carnival of Terror Clown Pants with Suspenders
February 25 - Pterattack

Score 150 points.

Tyrannian Bonfire
February 26 - Sutek's Tomb

Score 200 points.

Hourglass With Falling Sand
February 27 - Super Hasee Bounce

Score 125 points.

Shiny Doughnutfruit Necklace
February 28 - Spellseeker

Score 15,000 points.

Glowing Book of Spells
March 1 - Bumble Beams

Score 90 points.

Robot Petpet Mobile
March 2 - Sophie's Stew

Score 100 points.

Sophies Wand
March 3 - Snow Roller

Score 200 points.

Downhill Snowball Background
March 4 - Itchy Invasion

Score 300 points.

Pest be Gone Robotic Petpetpets
March 5 - Destruct-O-Match

Score 700 points.

Destruct-O-Match Cave Drawings Background
March 6 - Faerie Cloud Racers

Score 75 points.

Faerie Cloud Racer Garland
March 7 - Petpet Plunge

Score 80 points.

Sir Pompadour Bobblehead
March 8 - Shenkuu Tangram

Score 275 points.

Shenkuu Tangram Garland
March 9 - Wicked Wocky Wobble

Score 60 points.

Wallace Socks
March 10 - Darigan Dodgeball

Score 600 points.

Darigan Dodgeball Plastic Mace
March 11 - Turmac Roll

Score 135 points.

Turmac Sweater
March 12 - Faerie Bubbles

Score 175 points.

Faerie Bubbles Cannon
March 13 - Ultimate Bullseye II

Score 17 points.

Bullseye Earrings
March 14 - Kass Basher

Score 140 points.

Kass Pinata
Bonus Prizes for Completing all 32 Challenges
Alerts

The Snowager
Snowager is sleeping!
Neopia Today
Play Featured Game

Featured Band: Jazzmosis
The Runway Contest
Where's Lulu?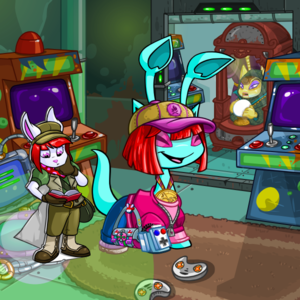 Winning entry for "Daily Dare"!
Click here to enter the next round!
Recently At Forums