Tiki Tack Tombola
About
Roll 'em up! Roll 'em up! It's time to play Tombola

! Tombola is one of the many Neopets Dailies that's viewed as a classic since it's been around so long. It's simple: draw a ticket and see if you've won anything!
If you manage to get a ticket ending in a 0, 2 or 5 you will win a "valuable" prize and some neopoints!
If you don't win a main prize, there's still a chance that you will receive a booby prize (and if the Tombola Guy is feeling generous, a small amount of neopoints.)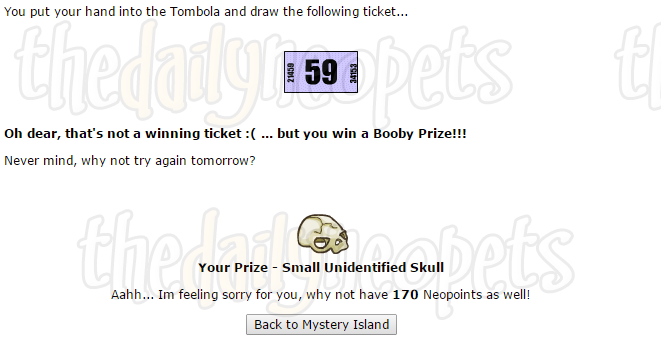 Availability
The Tombola Guy is unavailable during certain hours of the day. He leaves for one hour at a time (3-4am, 1-2pm, 9-10pm) and puts up a sign that says "Closed. Back in an hour or so."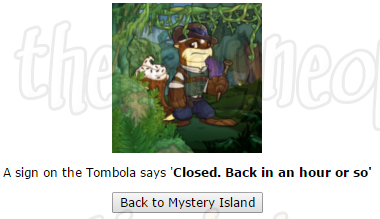 The Tombola Guy can also run out of prizes. When that happens, he will not give out any tickets until users donate enough Neopoints for him to buy more prizes. This is a communal donation pool, so you can either donate a couple neopoints to help out or come back later when other users have donated enough.
Prizes
Main Prizes
Battle Magic
Stone Muffin
Water Muffin
Books
Mystery Island Paperback Book
Mystery Island Pop-Up Book
Never Ending Faerie Tales
Rainbow Fountain Secrets
Sunset On Mystery Island
The Blue Tiki Sands of Time
The Holiday Sand
The Rock Pool and You: Your guide to Mystery Island Petpets
The Shy Purple Ona
Tombola Tips
Food
Apple Fruit Pancakes
Azzle Salad
Blueberry Fruit Pancakes
Chokato Crepe
Chocolate Faerie Log
Greasy Bread Spread
Hanging Fruit Basket
Heavenly Roast Turkey
Islandberry Tea
Jug of Fresh Phearade
Pimplepepper
Regular Sand Smoothie
Slice of Lemoran Pie
Snowberry Crepe
Strawberry Fruit Pancakes
Thornberry Crepe
Tigerbuggle Fruit Pancakes
Tigersquash Crepe
Vanilla Kougra Pudding
Zeenana Crepe
Furniture
Bean Bag of Nova
Dark Island Palm Tree
Harris Lamp
Grooming
Island Usul Bubble Bath
Gross Food
Alien Aisha Splurgles
Alien Aisha Zapzaggle
Asparagus Yogurt
Bean Yogurt Surprise
Black Widow Truffle
Blueberry Beetle Cracker
Blueberry Fish Pop
Bluehamberry Burger
Candy Peas
Canned Spinach
Carawool
Cheese and Eel Burger
Cheese Covered Caramel Apple
Chewed Gum Ice Cream Cone
Chewing Dung
Chocolate Beef Custard
Chocolate Coated Fish Pop
Chocolate Sundae with Ham
Coconut Cream Steak
Courgette Ice Cream
Cup-O-Slime
Delectable Mould Garden
Dung Cream Sandwich
Eyeball Sushi
Fantastic Fly Pie
Fermented Slop Surprise
Fresh Clam Jam
Fresh Seaweed Pie
Frosted Grub Burrito
Grub Parfait
Grub Waffles
Grubwich
Holiday Dinner in a Can
Hot Dog Flavoured Yogurt
Hot Worm Hot Dog
Iced Fish Cake
Jellied Eggs
Ketchup Ice Cream
Ketchup-Flavoured Milk
Layered Snot Gobstopper
Lemon and Lime Fish Pop
Lime Milkshake
Liver Smoothie
Maggot Pizza
Maggot Stew
Maggoty Egg Roll
Mashed Potatoes and Mud
Mashed Potato with Strawberry Sauce
Mayonnaise Filled Chocolate
Meat Cake
Moldy Pancakes
Mud n Mayo Dip
Mummy Spaghetti
Mustard Durian Smoothie
Mustard Ice Cream
Onion Puff
Onion Sorbet
Pasta and Eyes
Peanut Butter and Jelly Egg Cabbage
Pesto Banana Burger
Pickled Feet
Pork Ice Cream
Potato Ice Cream
Rancid Dung Coffee
Rotten Omelette Sandwich
Rotten Tomato Salad
Rotten Wormy Apple
Salmon Fishwich
Salmon Mousse Tea
Sardine Prune Parfait
Scab Cake
Sherbet Gravy
Snail Sub
Snot Snake
Spring Onion Ice Cream
Strawberry and Cheese Milkshake
Strawberry and Cream Fish Pop
Strawberry Artichoke
Stuffed Frog
Tempura-Fried Worms
Toasted Quiggle Legs
Tonguewich
Tuna Porridge
Tuna Stroganoff
Very Rotten Tomato
Wiggling Grub Surprise
Woo Woo Grub
Worm Infested Cheese
Worm Nugget
Magic Items
Codestones
Eye Of Mortog
Magic Wand
Tears of the Water Faerie
Miscellaneous
Kougra Tape Dispenser
Techo Master Statue
Petpets
Baby Blu
Barbat
Carmariller
Dartail
Ghoti
Walein
Sand
Bottle of Grey Sand
Bottle of White Sand
Curly Green Sand
Exfoliating Sand Soap
Glowing Sand
Green Mynci Sand Bottle
Invisible Sand
Maractite Mynci Sand Bottle
Ornate Rainbow Sand
Rainbow Sand
Stamps
Assorted Fruits Stamp
Island Mystic Stamp
Jhuidah Stamp
Mystery Island Hut Stamp
Mystery Island Kougra Stamp
Ryshu Stamp
Triangular Flotsam Stamp
Zeenana Stamp
Toys
Eo Codestone Plushie
Hula Aisha
Island Grarrl Plushie
Island Pteri Plushie
Island Skeith Plushie
Island Slorg Usuki Set
Lu Codestone Plushie
Main Codestone Plushie
Mau Codestone Plushie
Pull Along Kougra
Tai-Kai Codestone Plushie
Tiki Bucket of Sand
Vo Codestone Plushie
Zei Codestone Plushie
Wearables
Island Leaves and Flowers Foreground
Wooden Meepit Totem
Wooden Snuffly Totem
Booby Prizes
Ant Soup
Bag of Decorative Seashells
Baked Beans
Bottle of Black Sand
Bottle of Blue Sand
Bottle of Green Sand
Bottle of Red Sand
Box of Trifle Mix
Can of Prune Juice
Carved Seashell
Chilli Prawn Juice
Cocoa Juppie
Corn Balls
Dandelion and Burdock Drink
Dandergum
Dried Prunes
Drillaroot
Flatfruit Lollypop
Fruitmallow Grog
Funnydew Melon
Gravy Smoothie
Half Coconut Shell
Homemade Marmalade
Infested Peach
Jug of Fresh Phearade
Mashed Potatoes and Mud
Melowhirl
Musho Mushy Peas
Mystery Island Drum
Native Mask
Neoflakes Cake
Neopian Times Issue 3
Nurako
Palm Fan
Pickled Olives
Plain Faerie Cake
Reject Curly Shaped Sand
Reject Flower Shaped Sand
Reject Ornate Rainbow Sand
Sandals
Semolina
Small Unidentified Skull
Star Fish Sandwich
Super Toy Sailboat
Tagobo Potion
Tiki Bookmark
Tiki Brochure
Tiki Kite
Tiki Tack Keyring
Tin of Sardines
Tombola Pencil Sharpener
Tombola Pencil Sharpener
Tombola T-shirt
Tombola Visor
Traditional Bone Throne
Unlabelled Tin Can
Vial of Pure Water
Volcanic Rock
Worms and Dirt Sundae
Tombola Coins
What is a Tombola Coin, you say? A Tombola coin is what you used to need to play Tombola, but that was a long time ago. Now, the game is free and Tombola coins are just souvenirs. Here is a list of all the old Tombola coins for historical value:
Chokato Tombola Coin
Green Tombola Coin
Gold Tombola Coin
Golden Juppie Tombola Coin
Lime Tombola Coin
Purple Tombola Coin
Red Juppie Tombola Coin
Tigersquash Tombola Coin
Wooden Tombola Coin
Conclusion
That's all there is to this simple daily. Why not test your luck for today and draw a ticket

?
Alerts

The Snowager
Next sleep in 0h, 56m, 50s.

Next Possible Wake
Jan 22: 8 PM NST
Jan 23: 1 AM/PM NST
Jan 24: 6 AM/PM NST
Jan 25: 11 AM/PM NST
Neopia Today
Play Featured Game

Featured Band: Chomby and the Fungus Balls
The Runway Contest
The Ice Crystal Masked Ball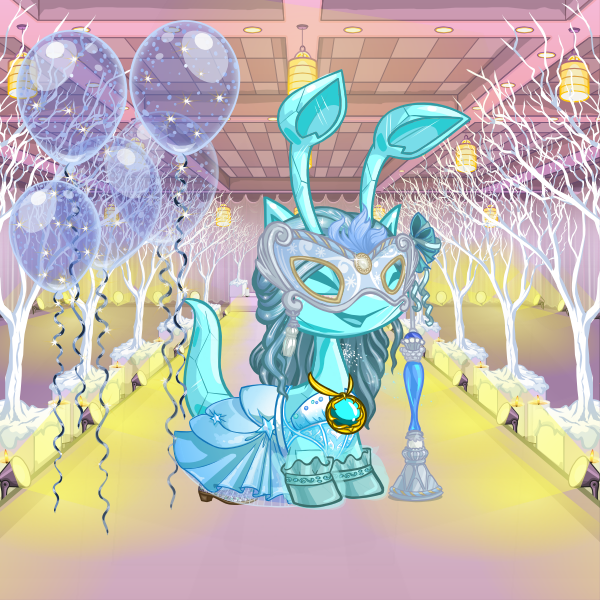 Winning entry for "Masked Ball"!
Voting has started!
Click here to vote for your favourite entries!
Recently At Forums