The Neopian Pound
The Neopian Pound

is one of the most useful features on Neopets. After being down for maintenance for a complete year, the Neopian Pound

is re-opened. Among the changes that were made to improve it, you may notice that it is now possible to do a safe transfer once per month, per account. Let's move on and see in detail how the pound is operating with all the new changes.
The
Neopian Pound

is filled with thousands of pets that are waiting for a new owner to take care of them. If you have a kind heart and want to make a difference for a pet, you could decide to
adopt one

from the pound.
Step by Step Adoption Tutorial
1. The adoption process is really easy. Browse the pound until you find a pet you would like to adopt, or enter the name of an adoptable pet in the search above the area where pets are displayed.
2. Select the pet that you would like to adopt and click on 'Adopt' at the bottom of the page.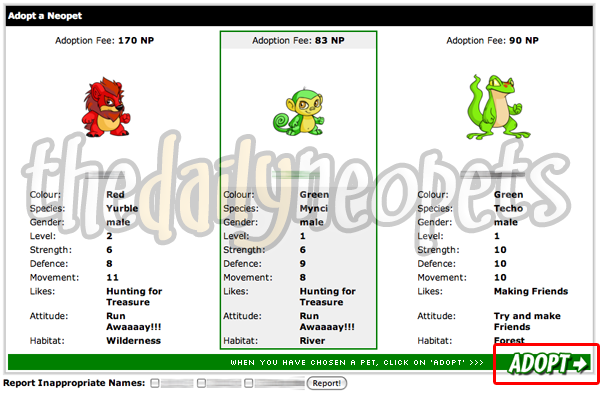 3. A popup appears on your screen to confirm the adoption. Click on 'Ok' to adopt the pet.

The adoption fee will depend on the stats of the pet: (Attack + Defence + Movement + 60) x Level. You can use our simple Cost Calculator below to quickly find out how much it will cost. Make sure you have enough Neopoints on hand!
Restrictions: If your account is under 4 months old, you won't be able to adopt limited edition and restricted pets.
Restricted and Limited Edition Pets
Level
3 and above
Species

Chomby

Cybunny

Draik

Hissi

Jetsam

Kiko

Koi

Krawk

Poogle

Tonu

Colors

8-bit

Agueena

Alien

Apple

Asparagus

Aubergine

Avocado

Baby

Biscuit

Blueberry

Camouflage

Carrot

Chocolate

Chokato

Christmas

Clay

Cloud

Coconut

Custard

Darigan

Desert

Dimensional

Disco

Durian

Elderlyboy

Elderlygirl

Electric

Eventide

Faerie

Fire

Garlic

Ghost

Glass

Gold

Gooseberry

Grape

Grey

Halloween

Ice

Island

Jelly

Juppieswirl

Lemon

Lime

Mallow

Maractite

Maraquan

MSP

Mutant

Onion

Pea

Peach

Pear

Pepper

Pineapple

Pirate

Plum

Plushie

Quigukiboy

Quigukigirl

Rainbow

Relic

Robot

Royalboy

Royalgirl

Sketch

Snot

Snow

Sponge

Spotted

Starry

Stone

Strawberry

Striped

Swamp Gas

Thornberry

Tomato

Transparent

Tyrannian

Usukiboy

Usukigirl

Water

Woodland

Wraith

Zombie
As you may have guessed, the adoption center of the Neopian Pound would not be exist if Neopians couldn't abandon their pets. If you decide to abandon your pet

, it will be placed in the adoption center

until a new owner adopts it. The Petpet of your pet will also accompany your pet into the Pound, but all his/her clothing and battle equipment will return to your inventory.
Step by Step Abandon Tutorial
1. If you wish to disown your Neopets, all you have to do is to click on the button below your pet a few times until it says 'Sure?!?'. After clicking on it, your pet will be sent to the Adoption Center and can be adopted by anybody on Neopets.

Before disowning your pet, have a look at our comparative table that explains in a clear way what the differences are between the abandon and the transfer features of the pound. You could lose your pet forever if you perform the wrong action.
Restrictions: You can only abandon one pet per day and it will cost you 250 Neopoints to perform this action.
The transfer option

of the Pound is a brand new feature that allows you to move your pet safely from your Neopets account to another of your choice. The unique feature of the transfer is that you are assured that the pet will reach his new home with all his Paint Brush coloring and regular clothing items, in addition to his Petpet. Transferred pets must be accepted on the account you send them to. If the pet isn't accepted, it will be returned to your account in 3 days.
Step by Step Transfer Tutorial
1. Select the pet you would like to transfer and click on 'transfer'.

2. A popup appears on your screen. All you have to do is to carefully type the username in the proper space and click on 'Ok'. You have to pay a non-refundable 1000 Neopoints fee to perform this action.

3. The recipient of the pet receives an event telling him/her that somebody is offering a pet to adopt. The recipient can then either accept or reject the pet, and if they elect to adopt, has to pay the variable adoption fees depending on the stats of the pet. It can be found by using this formula: Attack + Defence + Movement + 60 * Level

4. The sender gets a notification of the decision that was made by the recipient. If the pet was rejected, it goes back to the sender who won't be able to attempt another User-to-User transfer until next month.
Restrictions: You only send a pet to another account a certain number of times per month. You may only accept a pet from another account the same number of times per month as well. How many times you may transfer is based on your account's age - with an extra transfer for every two years of time on the site - like this:
| Account Age | Number of Tranfers |
| --- | --- |
| 0 - 23 months | 1 transfer |
| 24 - 47 months | 2 transfers |
| 48 - 71 months | 3 transfers |
| 72 - 95 months | 4 transfers |
| 96 - 119 months | 5 transfers |
| 120-143 months | 6 transfers |
| 144+ months | 7 transfers |
Also, between the time that the pet is sent to the other account and the moment the pet is accepted, you won't be able to create a new Neopet if you already have 3 pets on your account. The user receiving the pet transfer must meet the same requirements as for adopting that same pet from the pound. See the restrictions chart above.
Lutaris may not be User-to-User transferred because they are too fond of their owner.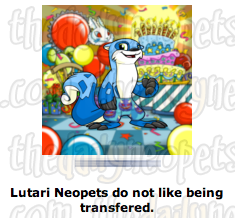 Another aspect of the new Transfer Center

is the ability to exchange your Neopet for another user's. This works a lot like an ordinary transfer, as your pet's paint brush and Neopoint clothing will go with your pet - and anything the other user's pet is wearing will come to you. Exchanging Neopets counts as your one User-to-User transfer for that particular month.
Step by Step Exchange Tutorial
1. Start the exchange just like you would a normal transfer - select the pet you wish to exchange and then hit 'Transfer'. In the popup that appears, enter the username of the user you wish to exchange pets with.
2. On the Confirm page that appears next, click the link at the bottom like as below:

3. You will now be prompted to pick which of the other user's pets that you want to exchange for yours. Once you've selected, and entered your PIN if you need to, click "Exchange Neopets" to alert the other user. You will be charged a non-refundable 1,000 NP for the transfer, plus whatever fees you had to pay for the other pet.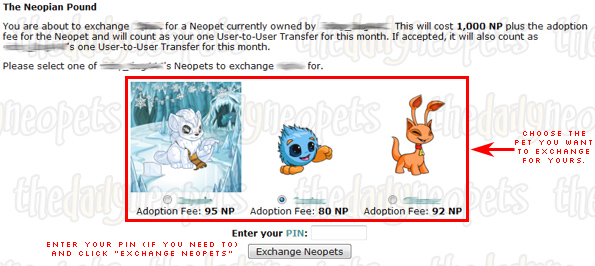 4. The owner of the other pet will now be alerted to the attempt to exchange, and be given the choice to accept or reject the exchange, as below. If they accept, they will pay the relevant adoption fees plus the 1,000 NP transfer fee.

5. The user who initated the exchange then gets a notification of what the other user decided. If the exchange was rejected, the pets go back to their original owners, and the original sender won't be able to attempt another User-to-User transfer or exchange until next month.
Restrictions: As exchanging is basically just an extension of the Transfer option, the restrictions are exactly the same as for normal transfers above.
Abandon or Transfer?
To help you to decide if you want to abandon

your pet or to transfer

it, here is a comparative table of what will happen to items that are equipped to your pet.
| Will my pet keep its... | Abandon | Transfer |
| --- | --- | --- |
| Battledome Equipment? | No | No |
| NC Mall items? | No | No |
| Paint Brush Clothing? | No | Yes |
| Regular Clothing? | No | Yes |
| Petpet? | Yes | Yes |
Alerts


The Snowager
Next sleep in 0h, 44m, 10s.

Next Possible Wake
Jan 19: 10 AM/PM NST
Jan 20: 3 AM/PM NST
Jan 21: 8 AM/PM NST
Jan 22: 1 AM/PM NST
Neopia Today

Play Featured Game

Featured Band: Yes Boy Ice Cream
The Runway Contest
Career Not in Ruins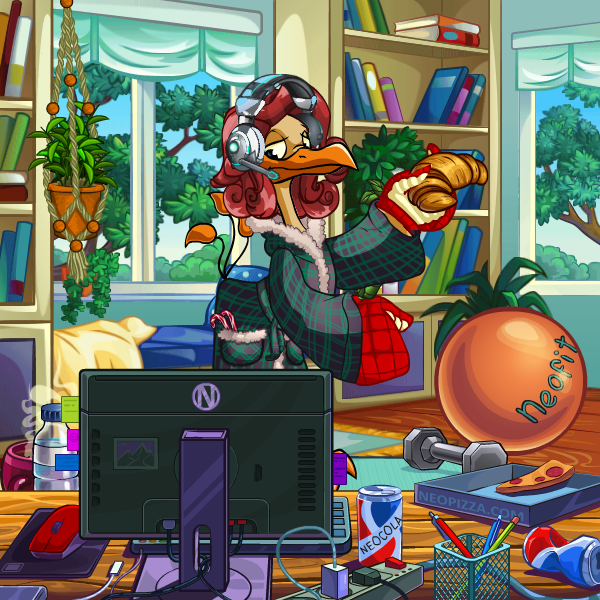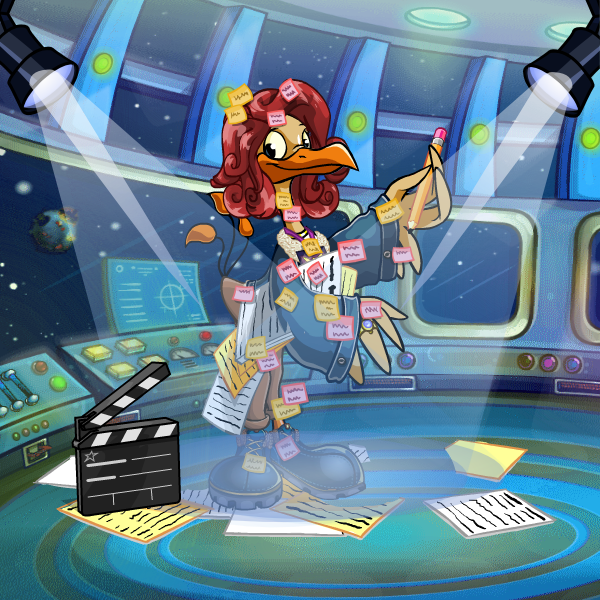 Winning entry for "2021 vs. 2022"!
Click here to enter the next round!
Recently At Forums