Ye Olde Fishing Vortex

Welcome to the underwater fishing cavern! This trapped air pocket has created an underwater lake with all kinds of strange and wondrous sea creatures, as well as some... other interesting things. Take a place on the jetty and start fishing! But be patient. You might have to wait a while between catches.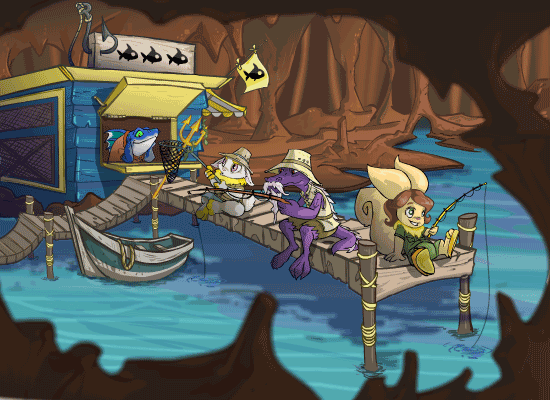 Getting Started
Everyone loves fishing and it's much simpler in Neopia than in real life. Just click here

to go fishing! Once there, just click on Reel In Your Line and it will show you what item you caught.
The amount of time you need to wait before fishing again is random, but is usually in the 12 to 24 hour range.
Skill Levels
Every time you fish, you have a good chance that your pet's fishing skill level will be raised. Although this does not happen every time, it does happen quite often. You can see your fishing level when ever you go to the main 'Ye Olde Fishing Vortex' page

.
Avatar

Catching a Titanic Squid, which start to appear when your fishing pet is around level 80+, will grant you the Fishing - Titanic Squid avatar! Click to avatar image to mark this avatar off your list.
Winnings
TDN Needs Your Help!:
It appears that all the new items are accounted for, but we still need your help. Right now we're looking to pin down exact levels for the newly released items. For a list of items missing levels please scroll to the bottom of this page!
If you discover an item not listed in our guide or can help us pin down levels, please Contact Us and tell us about it! Please include the name of the item and the fishing level of the pet that fished it up.
Most of the things you will fish up (especially at lower levels) are pretty much useless. If you think it may be worth something, look it up on the shop wizard. Chances are it won't be worth much, so don't get your hopes up too high. One exception, however, is the Bag of Broken Neopoints, which can be sold on the shop wizard for just under 2000 NP, or taken to the Toy Repair Shop

and will usually return a profit. However, selling it in your shop is almost always the best decision and will yield you the most profit.
Now on to the most important part... The Winnings!!! Below is a list of all the items that are possible to win, along with the skill levels your pet needs to be in order to catch them. Hover your mouse over the items to see their names.
Level 1+

Waterfish

Blandfish

Breadfish

Lesser Spotted Fish

Rockfish

Scrawnyfish

Bag of Broken Neopoints

Broken Fishing Pole

Rotting Driftwood

Giant Brown Kelp

Giant Red Kelp

Giant Green Kelp

Mossy Rock

Bucket of Sludge

Old Rotten Right Boot

Old Rotten Left Boot

Old Rotten Right Shoe

Old Rotten Left Shoe

Old Rotten Right Sandal

Old Rotten Left Sandal

Rusty Old Can

Butterfish

Rotten Beetroot

Cheap Water Ring

Water Mote

Scroll of the Sea

Stagnant Puddle of Water

Healing Springs Residue

Watery Hot Dog
Level 5+

Spongy Algea

Grey Sea Fern

Cheery Plant

Petrified Bone
Level 20+

Small Giant Squid

Dull Grey Pearl

Cinder Block Sea Fungus

Tanglepus

Fishing Made Easy

Broken Toy Sailboat

Cubical Sea Fungus
Level 30+

Landfish

On Gelert Pond

Frozen Mechafish
Level 40+

Large Giant Squid

Fractalpus

Eyefish

Waterlogged Book

Shimmery Seagrass

The Old Mynci and the Sea

Prismatic Sea Fern
Level 50+

Giant Giant Squid

Enormous Fake Diamond

Void Plant

Pond Trout

Fish Scale Breastplate
Level 60+

Pike Pike

Shiny Shoal Shell Shield
Level 70+

Cubefish

Darigan Seaweed

Giant Bath Plug

Irritable Genie-in-a-Bottle
Level 80+

Titanic Giant Squid

Inferno Mollusk

Radarfish

Mysterious Swirly Potion

Mouldy Petpet Bed

Magic Crystalline Kelp

Tyrannian Mechafish
Level 87+

Level 90+

Chaosfish

Starry Sea Fern

Diseased Mechafish
Level 100+

Plushie Fungus

Bombfish

Transparifish

Glistening Mechafish

Golden Mechafish

Plushie Clam

Spectral Shrimp

Pant Devil Attractor

Smooth Black Sphere

Spooky Mechafish

Gravitic Urn
Level 110+


Molten Borovan Rod
Level 120+

Madfish

Doomfish

Obelisk of Doom
Level 136+

Hovering Four-Dimensional Pyramid
Level 167+

Golden Meepit Statue
Level 179+

Glowing Wooden Mask
Level 189+

Shiny Sloth Head
Level 222+

The Two Ring
Level 241+

Flask of Clear, Odourless Liquid
Level 250+

Neopet-Eating Carp
Level 258+

Strange Glowing Disc
Special Items
There are a few special items that you can win from fishing. They are detailed below.

The Flask of Rainbow Fountain Water will turn the pet that drinks it into a random color. This item has one use and you cannot tell which color your pet will turn until after you use the flask. Also, if you use this item on a Buzz, you will not get the "Buzzin" avatar.

If you use the Irritable Genie-in-a-Bottle your pet will gain 1-3 levels. This is a one use item.

The Mysterious Swirly Potion will turn the pet that drinks it into a random limited edition pet. This item is one use and you cannot tell which limited edition pet your pet will turn into until after you use it. Also, the color of your pet will stay the same unless it is not available for the other pet at which time it will turn into a random basic color (e.g. A Tyrannian Moehog turns into a Blue Kiko, because no Tyrannian Kiko colour is available).

If you are very lucky, you might even receive a paint brush from the fishing vortex!

You can also recieve a transmogrification potion from the vortex!
New Items
Part of collecting new item data is finding at which fishing level items become available at. Below are some of the newer prizes and the lowest know levels they are available at. They should be available at any level after the one listed. If you get one of these items at a level lower than we have below, let us know!

Bubble Mote
Level: 10

Mouldy Left-Overs
Level: 10

Ultra Bubble Beam
Level: 15

Necklace of the Deep
Level: 17

Magical Healing Potion
Level: 15

Rotten Omelette Sandwich
Level: 21

Water Muffin
Level: 20

Lurman
Level: 21

Noak
Level: 25

Water Faerie Water Blaster
Level: 30

Karate For Beginners
Level: 8

Nupie
Level: 28

Splime
Level: 50

Mouldy Tome
Level: 51

Box Fort
Level: 47

Ancient Shopping List Scroll
Level: 40

Edible Smelly Gym Socks
Level: 60

Yoakie
Level: 28

Necklace of the Water Faerie
Level: 55

Surzard
Level: 63

Cave Rock
Level: 32

Healing Potion XV
Level: 66

Slimy Bog Scroll
Level: 75

Kora
Level: 28

Soggy Scroll
Level: 82

Dead Bonfire
Level: 88

Pickled Moehog Feet
Level: 90

Mundo
Level: 90

Secret of the Bogberries
Level: 107

Mouldy Pencil Case
Level: 130

Old Picket Fence
Level: 52

Leminty Elixir of Healing
Level: 50

Lesser Spotted Fish Plushie
Level: 163
Written by
Ryan
Errors or incorrect info?
Contact Us
.
Neopets Alerts
Neopets Today

Play Featured Game

Featured Band: Gruundo
« Previous
Now
Next »
Sep 9th - Draik Day
Sep 13th - Techo Day
Sep 15th - The Annual Chocolate Ball
Sep 19th - Poogle Parade
Sep 20th - Faerie Festival
Sep 23rd - Gormball Championships
Sep 25th - Skeith Day
The Runway Customization Contest
Entering the Corn Maze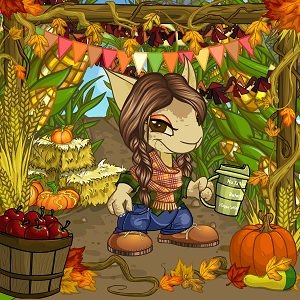 Winning entry for "The Great Outdoors"!
Click here to enter Round 65!

Winner for our Special Edition Contest! There's No Use Crying Over Spilled Coffee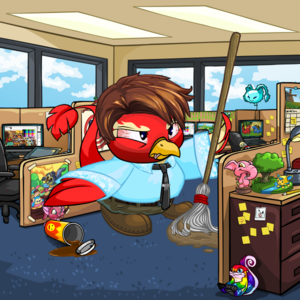 ***Voting has started!***
Click here to vote for your favourite entries!
Recent TDN Forums Posts