Welcome to TDN's Unity Database Team
Welcome to TDN's Unity Database Team! We are pleased to have you as part of our staff. To ease your training, Dawn has outlined a few things you need to know here. Please refer to this whenever you're stuck on something.
Guidelines
Dawn has a few things for you to keep in mind while being part of our staff.
Please be in Discord whenever you're working on things in the database. We coordinate our work this way. Additionally, it's easier to ask a question right away. Discord can be found here.
Update Dawn on your availability when necessary. If you're going away, she needs to know, so she's not expecting you to be online. Disappearing for an extended period of time may result in being removed from staff. Continuous communication is important!
Double checking your work is very important! Simple mistakes are easy to make in the database, so checking your work ensures accuracy. Also, please do not rush.
If you're ever unsure about anything and what to do, please do not hesitate to ask Dawn. She's here to help!
Getting Started
Dawn will need your myTDN account to give you access to the database. You will need to be logged into your myTDN account to access the database admin section.
Additionally, Dawn has an important document to share with you. Please inform her of your Google Account email. The Tags and Notes document will give you information on additional tags and notes that may be required. You'll be referring to this often, so you may wish to bookmark it.
Upon completion of your trial period, your staff email will be set up. You will need this for staff and visitor communication. We use Google Drive frequently for things, and a staff account automatically grants you access to our files. Trello is another resource we use regularly. Essentially Trello is like a bulletin board. You will need your staff email for Trello as well. Lastly, Automagical permissions will be set up. Automagical, or Auto, is our primary admin panel and is used for a variety of things.
Touring the Database
Now that you're logged in, you should see a button at the bottom left of your screen that says, Admin. Clicking on it will bring up a list of options.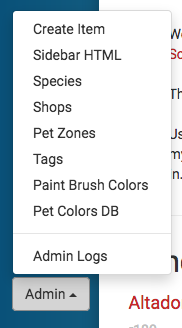 The Admin Panel is self-explanatory, but just in case, here's an overview of what each listing does.
| Admin Option | Description |
| --- | --- |
| Admin Logs | Here you can see the latest 250 actions taken within the database. |
| Pet Colors Database | New colour combinations are added here. This page can be a bit tricky! |
| Paint Brush Colors | This page is for adding new paint brush colours. |
| Tags | All tags within the database are listed here for managing. |
| Pet Zones | New pet zones are added on this page. This section rarely gets used, so check with Dawn before doing anything with this page. |
| Shops | New shops are added on this page. This section rarely gets used, so check with Dawn before doing anything with this page. |
| Species | New Neopet species are added on this page. This section rarely gets used, so check with Dawn before doing anything with this page. |
| Sidebar HTML | This page manages the sidebar links that show in green along the right side of the database. Please check with Dawn before making any changes. |
| Create Item | New items are added to ourdatabase here. |
Many of these pages have easy to follow instructions. Below is an overview of the pages that are a bit more complex, as well as frequently used pages.
Create Item
Our most important page! Almost every day there will be something new to add to the database. Some days there will be lots of items to add. Coordinating on busy days is ideal.
A typical day sees items being added around noon and at the end of the day. During events, there may also be items released at midnight. For this reason, we ask that you're available for at least one of these updates.
Primarily you will be responsible for adding all Neopoint items to the database. These will be in the news or an event. You will also be adding NC Mall items. Some NC Mall items require additional notes and tags. Additionally, a guide may need to be updated. Notify Dawn if a guide needs to be updated. Battledome items are no longer the responsibility of our Battlepedia Team. All items, including Battledome items, are to be added and maintained by all Items Database Team members. This includes testing new weapons and checking your findings with another staff member. Please use the tag Weapons: Needs Testing for missing stats and use the tag Unknown Stats if information is missing. The ultimate goal is to have an up-to-date database.
Below is an overview of how to add an item to the database. At the top, you'll automatically be on the "Details" tab. There will also be a Battledome and a Customization tab. We'll take a look at the Battledome tan a little later on. You will be using the Customization tab frequently. All wearables and NC Mall items will use the Customization tab.
Please be advised that our database does not include unreleased items in mass quantities. There may be a few in the database already. Already existing unreleased items in our database are to be left alone.

| Field | Instructions |
| --- | --- |
| Name | Item Name goes here. Be cautious about typos and extra spaces. We use friendly URLs in our database, which are determined by the name. |
| Image | Paste the entire Image URL here. Ensure that it is the correct URL from Neopets' server. Images from petpages may be from an external server. We do not want to make it look like we are copying information from other fansites. |
| Rarity | The items' rarity goes here. An unknown rarity must be 0, and not left blank. A blank field here will cause an error. |
| Restock Price | At this time, only use this field for NC Mall items. For Neopoint items, input a 0. Leaving this blank will cause an error. Prices for items will be different from other fansites. For additional information on this, ask Dawn. |
| Description | Paste the entire item description here, without making any changes. If the description is unknown please use, Description Unknown!. |
| Tags | Select any and all relevant tags for the item. Each item will automatically receive an accurate rarity tag(s). Our database avoids using redundancies. Do not include a species tag if the name lists the species. Wearable items are tagged differently from others. Inquire with Dawn if you're unsure. Please mark any items for Dawn by using the "Unknown Stats" tag. Continuous scrolling is not required. Simply start typing. |
| Release Date | Put the ACTUAL release date for the item in this field. Remember, Neopets always dates the news for the following day. Subtract a day from the news post to get the accurate date. If you're unsure what the correct date is, either due to time zones or other reasons, ask Dawn for help. |
| Restocks At | Select where the item restocks at from the drop-down. NC Mall items are a bit different, so if you're not sure and can't find them in the mall, ask Dawn. Often the image URLs will give you a clue as to where they restock at in the Mall. |
| Status | The status of an item is indicated from this field. Primarily you will be using the "Active" status unless instructed otherwise. |
| Auto-populate Notes For... | This drop-down contains notes to be used for Customization items only. Edit these notes accordingly. |
| Notes | In this field is where an items' notes are. When using multiple notes, separate them on new lines. You will need to use paragraph tags to do this. Use the Tags and Notes document as a reference. Ask if you're unsure of what to put for a note. |
Now we'll take a look at the Customization tab. This section is also very straightforward. All Customization items will use this page alongside the main Details page.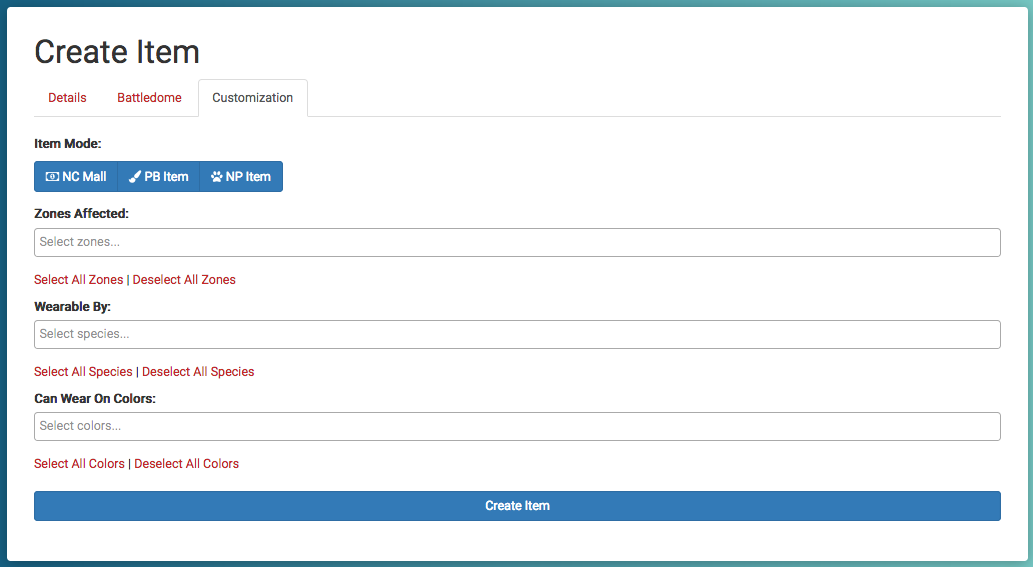 | Field | Instructions |
| --- | --- |
| Item Mode | Select whether the item you're adding is NC Mall, PB Item or NP Item. Items located within the mall or during a mall event, have the NC Mall mode selected. Items included in a paint brush clothing set have the PB Item mode chosen. Any other neopoint items are the NP Item mode. For Customization use only. |
| Zones Affected | Select the zone(s) the item occupies. When unsure what to select, ask.. |
| Wearable By | Select the Neopet Species' able to wear the item. |
| Can Wear On Colors | Select the corresponding colour of the PB clothing. Colours are for PB clothing only! Select only the color the clothing items belong to. |
Once you've finished filling in all the information, be sure to click the big blue button at the bottom that says "Create Item". After creating the item, you will be able to edit it. Now's the time to double check that the image is correct and catch any other possible mistakes. Click the image to see how it looks in the database. Useful for double checking your work. The notes field especially, to view the formatting.
Please us the new Staff Notes section to indicate why a wearable has been tagged as "Unknown Stats". Such as missing zone(s) or retirement date.
Error When Creating an Item
An error will occur for several reasons. Most likely it's because you forgot to put something in the form that is required such as Name, Image URL, Description, Rarity, and Price. Remaining idle for extended periods will also cause an error. Close out your tabs when you're finished working.

When you get an error don't panic! Simply press the back button on your browser and all the work you just did should still be saved. Correct what the error is and try again.
Edit Item
So you need to edit an item, well this can be done two ways.
Directly after adding the item to the database.
By viewing the items page in the database and clicking the "Edit Item" red link at the top.
There is one small difference between the Edit page and the Create page.

The only difference here is the URL Slug field. Here at TDN, all our items use friendly URLs. Meaning the URL contains the item name. The slug will need to be updated to reflect the corrected name. When a typo is made, or Neopets changes the name, the slug is to be updated.
Deleting an Item
While viewing the item in the database, notice there is also a "Delete" link as well. Please do not delete anything without Dawn's approval! The only exception to this is if you've just added a pre-existing item to the database, and are removing the duplicate.
Pet Days
In addition to regular news days, there is also pet days. A pet day requires a few extra steps. New colour combinations from the Rainbow Pool are added. Paint brush clothing is added, along with the other clothing set.
Adding Colour Combinations
The first step is to add the colour combinations. The Polka Dot and Relic Bruce will be the examples.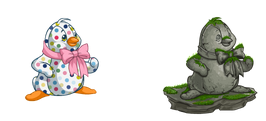 The Key is required to add the colour to the database. Follow these steps to acquire the Key.
Go to the Rainbow Pool, go to All Neopet Colours and select Bruce from the drop-down.
Click the Polka Dot colour.
Right-click and select View Image.
In the address bar is where you'll get the Key from. If you take a look at it you will see this: https://pets.neopets.com/cp/464nmr4n/1/4.png. I have bolded the key to make it visible. The key is always in this location and different for every combination.
Copy the key 464nmr4n.
With the Key copied, head over to Unity. Follow these steps to add the new colour combination.
Select Pet Colors DB from the Admin menu.
In the Colors menu, select Polka Dot.
Select Bruce in the Species menu.
Paste the Key into the Hash Field.
Click the green button to add.
To check that the color was added correctly, go to the Wearables menu at the top of the page. Select Colors Database to view the most recent combinations added to the database. Check that the name and image is correct. If not, then you'll have to edit, by repeating the above steps.
Now see if you can find the key for the Relic Bruce. It's already in our database so you can reference the list in the admin panel to be sure you have it correct.
Dawn will try to do this step as she's more familiar with it. Just in case she's not around the colours can still be added.
Adding Paint Brush Clothing
Adding paint brush clothing can be a challenging task. The easiest way is to take a look at previous paint brush clothing items. In this case, we're looking for the Polka Dot Bruce Bowtie. The method here involves guessing the image URL.
To start, let's look at the image URL for the Baby Bruce Bowtie. In the URL we have clo_baby_bruce_bowtie.gif. Let's substitute polkadot for baby and see if that works, and in this case, it does. The image URL we know to be https://images.neopets.com/items/clo_polkadot_bruce_bowtie.gif by simple substitution. Sometimes the format will be clo_species_colour_zone.gif. It takes some practice to locate the URL. Additionally, the URL may not be active right away. If you cannot find it, take your best guess. Also, you may ask Dawn to try. For practice try finding the image URL for the Relic Bruce Bowtie and check the above image.
It's important to know that sometimes TNT does not follow the same pattern for paint brush clothing URLs. Because of this, it can be a challenge at times.
Paint brush clothing items are added similarly to any other Customization item. All paint brush clothing items share the same description. They are also rarity 101 and get tags for No Trade and Clothes. Make sure you select that they restock in Nowhere/Unknown. No notes are added for these items. On the Customization tab select the PB Item mode, appropriate zone, species and colour. In this case that is Collar, Bruce, Polka Dot.
Adding the Clothing Set
The clothing set is added just like any other wearable item. Like the PB Clothing, there are no notes. These items will be tagged as Clothes. Be sure to select the NP Item mode and the corresponding zone and species. Leave the colours section blank.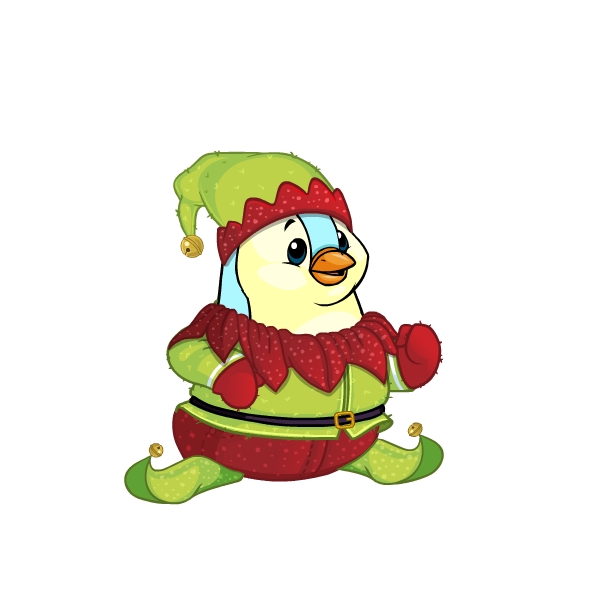 To get the information, you need to know the name of the clothing set. Normally the name is in the image URL of the fully clothed pet. In this case, the URL is https://images.neopets.com/homepage/bruce_elf_outfit.jpg. We can now try different combinations in the Neopets search bar until we pull up the set. First, you can try Elf Bruce, which gets 0 results. Then try Bruce Elf and the clothing set pops up. From there, click on each item and add it to the database. It's helpful to open each item in a new tab, so the search page doesn't get resent.
Battledome Items
As stated earlier, Battledome items are now the responsibility of the Items Database Team. In addition to the main Details page, you will be using the Battledome tab. Weapons will also need to be tested!
Adding Battledome Items
In this section we will be focusing on using the Battledome tab. It is the same form for both the Create and Edit Item functions.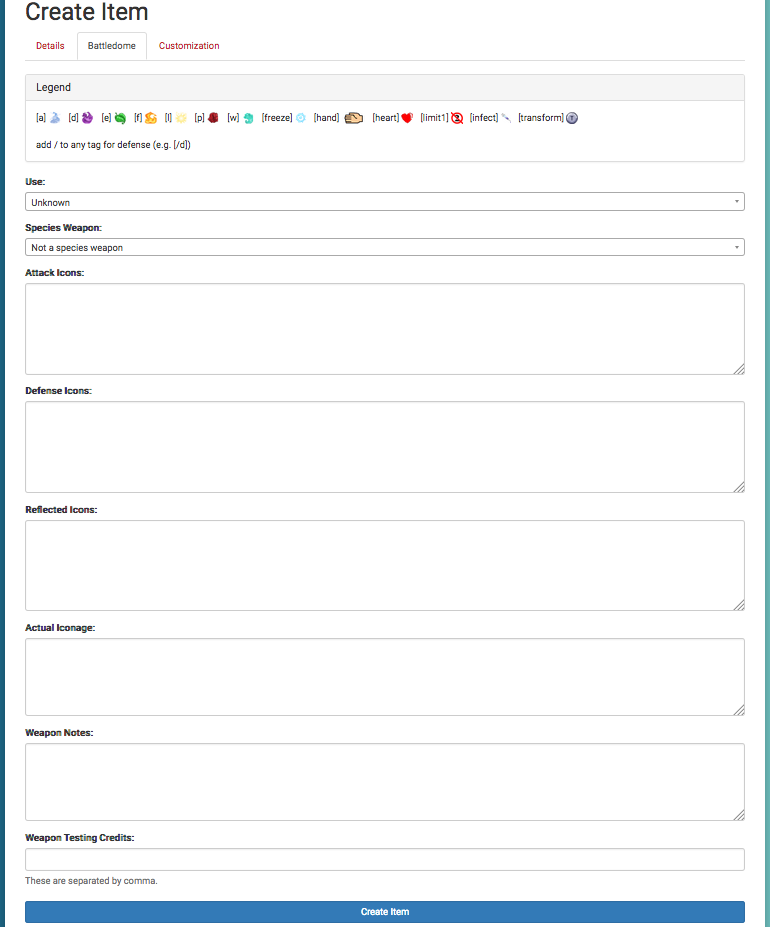 As you can see, this form has several fields. It is important that you use the legend at the top to properly format the icons for attack and defence. If you need help with any of these fields, please let Dawn know. If an item needs to be tested and we have no Battledome information for it at the time of release, add the following note to the Weapon Notes section:

This form is very straightforward so a full breakdown of each field will not be done. One important thing to remember is, when testing weapons or getting information from another Neopian, be sure to credit them with their username. It might be a good idea to ask how they'd like to be credited, either username or Alias. There are some Neopians who prefer to keep a low profile and we should respect that. If a staff member is doing the testing, we do not credit ourselves as testers. Remember to tag items requiring testing with Weapons: Needs Testing.
A change has been made to this page. At the top, you'll now see a checkbox with Is battledome weapon?. Select this for all battledome items. This has been added so we can flag items as battledome without setting other fields and possibly providing incorrect information.
Testing Battledome Weapons
Now we'll move into testing weapons to find their icons and what they do. An in-depth explanation for this will not be done either, as it is fairly self-explanatory. You will need to obtain the weapon to test it. Equip it in a battle and use it against an opponent, or even a few for good measure. Be sure to have the combat log open. If you cannot get the combat log to open, make sure you deactivate your ad-blocker and open it. Once it is open, you can reactivate your ad-blocker. Use the weapon and record what it does. The appropriate tags will also need to be added for the weapons use. If further testing is still needed, leave the Weapons: Needs Testing tag applied. Additionally, items on the Needs Testing list will need to be gone through and tested as often as possible to be sure we are obtaining the information for these items. Some of these weapons may be near impossible to test and that's alright, we just need to make an effort to keep it as up to date as possible.
Please try to test weapons shortly after they've been released when possible! Especially if the weapon was a prize from an event. Neopians will want to know if it is a good weapon or not. Most event weapons can be tested right away as you will already have them in your possession.
There is now a Staff Notes section to be used. This is primarily helpful for battledome items requiring testing. Providing a short note here allows for a quick reference to know what needs to be done for that item.
Finding Item Info
There are many ways of finding item indormation. For NC Mall items, the easiest place is the NC Mall, or searching on the Neoboards. NC items can be a bit time consuming to add, so if you're having troubles, Dawn can help. This section is going to focus on finding information for regular Neopoint items.
For most new Neopoint items, the search bar can be used to find the information for that item. However, this cannot be used for higher rarity items. This is where another handy trick comes in. This trick will be outlined with Firefox, so if you're using a different browser it may not work or it may just be a bit different.
For items that cannot be found in the search, go to the Shop Wizard or Trading Post. Once you find the item, copy it's name and image to the database. Then on the image you're going to right click and slect the option, View Image Info. A new window will open and at the top you'll see 4 tabs: General, Media, Permissions and Security. On the Media tab, look for the Associated Text: line. This is the description for the item. Copy and paste that into the database form and close the window.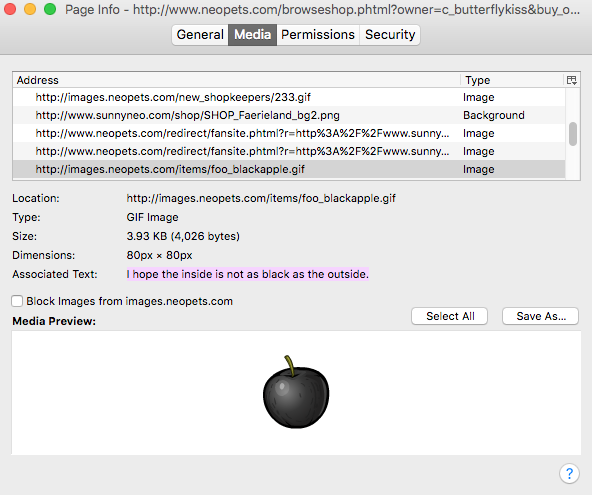 For some instances the release date for an item may be unknown or we're not sure when it was released. We can use a similar method to find the release date for the item. On the image you need the date for, right click and select the option, View Image. Then you're going to right click again and select the option, View Image Info. A new window, much like the previous one will open. Switch to the General tab and look for the Modified: line. This line is when the image was alst modified and uploaded to the Neopets servers, indicating the closest thing to a release date if we're missing one. For these new Apple Bobbing apples, they were uploaded over the course of a week or so, with their release date announced in the news, so we'll use that date instead of the one here. This just shows you how to find it if it's not announced in the news or a super old item we're colelcting information on. This date trick is very helpful for adding NC Mall items!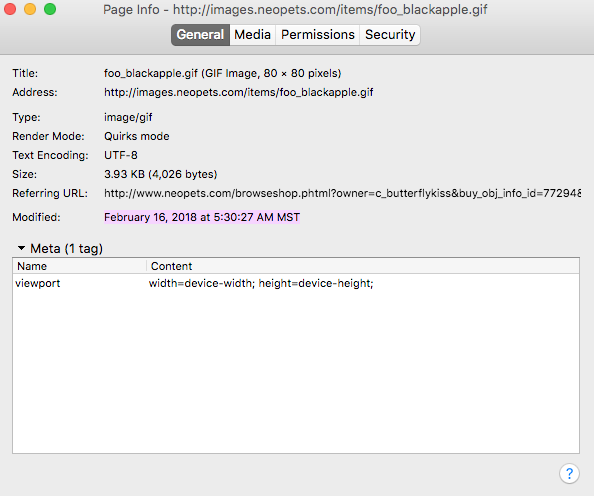 If you find that this trick works for other browsers, or if it doesn't work, let Dawn know.
PPL Winners
Every Wednesday a new Petpet is featured as the Petpet Protection League Winner in the news. It is our job to update our database to indicate this award.

This week is the Yellow Zumagorn and here is what needs to be done:
Bring up the edit page for this petpet.
Add the tag, PPL Winner.
Update the Restocks At: field to be Nowhere/Unknown for all Petpets that are rarity 101 or higher as they do not stock in Neopian Shops. During Import all items without a designated shop were given Kauvara's Magic Shop by default.
Add the following note to the Notes field: This Petpet won week # of the PPL. Change the # sign to the week number listed in the news. This example, it would be changed to 647.
Press the Edit Item Button to save the changes.
Trello
Now that you have passed your trial period, you may join Trello! Please use your new TDN Staff email to create an account on Trello. Our team board is located here. From there you can add yourself to the boards, or request access. Currently, we are not using the purple BP boards.
The most important board will be the pink Unity board. Dawn has compiled a list of things to be completed. If you have any suggestions, please feel free to add them. Please okay, your suggestions with Dawn so she may advise if necessary.
Additionally, there are two Content boards. You may tackle anything on these boards, just let Dawn know what you're working on.
Automagical
Our last piece of business will be granting you access to Automagical. Auto is our primary admin panel. If you need help with anything in Auto, let Dawn or Hrtbrk know. To gain access, you will need to choose a 4-digit PIN that you will remember. Your PIN is required to log into Auto. Please send your PIN to Dawn either on Discord or the forums. If you happen to forget your PIN, it is easy to reset and change. You will need to let Dawn or Hrtbrk know so they can do this for you. Once your permissions have been set up, Dawn will give you the link to Automagical.
Alerts

The Snowager
Next sleep in 1h, 28m, 2s.

Next Possible Wake
Jan 28: 8 AM/PM NST
Jan 29: 1 AM/PM NST
Jan 30: 6 AM/PM NST
Jan 31: 11 AM/PM NST
Neopia Today

Play Featured Game

Featured Band: Chomby and the Fungus Balls
The Runway Contest
Career Not in Ruins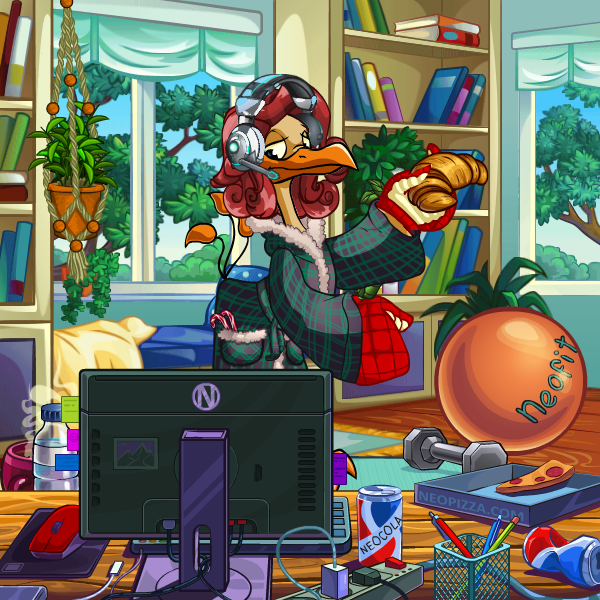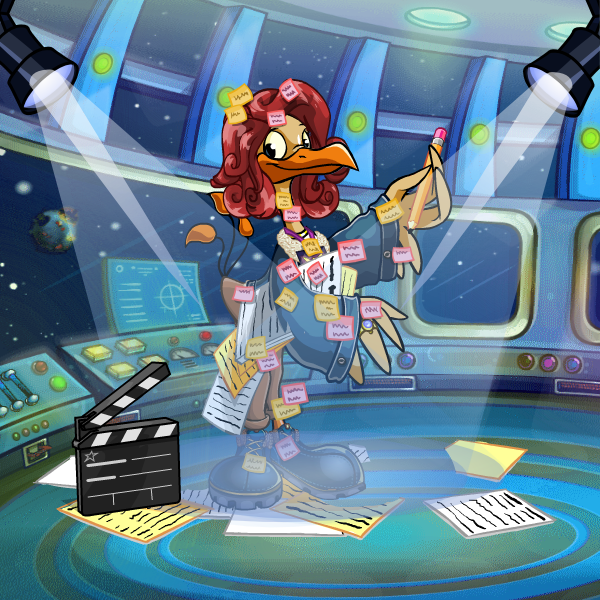 Winning entry for "2021 vs. 2022"!
Voting has started!
Click here to vote for your favourite entries!
Recently At Forums